Top 15 At Home Exercises And 3 HIIT Workouts To Lose Weight Fast
Here are my top 15 at home exercises to lose weight fast. These 15 home exercises are easy to do, they requrie no equipment and they burn calories fast.
If you are like most people then you are busy. Finding the time to get down to the gym can be difficult. You have to pack clothes, shower at the gym, get changed and then come back.
Whole body HIIT workouts
You wont need to search for any more home exercises to help you lose weight as I have included exercises that work the whole body.
Many of the exercises I will share with you are exercises that I have used in my own personal workouts over the years, as well as with personal training clients.
I have also used these 15 at home exercises to form a HIIT workout to show you how to use these exercises effectively. HIIT workouts are one of the fastest ways to lose weight.
In recent times these workouts have become popularised. However, the HIIT concept has been around for many years before becoming mainstream.
How to use these at home exercises
These exercises have been grouped into 3 different workouts. These workouts combine both cardio and strength training.
For best results perform this HIIT workout 2 times in a week and combine with some type of cardio workout like running, cycling or swimming.
Also, remember to combine this workout with a good diet to maximise your weight loss efforts.
Work and rest periods for your HIIT workouts for men
| | | | |
| --- | --- | --- | --- |
| | Exercise | Rest | Sets |
| Beginner | 15 | 45 | 4 |
| Intermediate | 20 | 40 | 4 |
| Advanced | 30 | 30 | 4 |
The top 15 at home exercises are:
Burpees
Dorsel raises
Clap press ups
Curttsey lunges
Dive bomber press ups
Forward jumps
Hammers
Hamstring curls
High knees
Jack knife
Squat jumps
Knee tucks
Lunge and rotate
Plank spiderman
Jump lunges
HIIT workouts For Men To lose weight #5
1. Burpees
No home exercise list would be complete without burpees. If you add the press up in it works the upper body and lower body. This exercise tends to creep up on you. The first 10 always seem easy and then it hits you. This is probably my number one home exercise.
2. Dorsel raise
This exercise works the lower back and is needed to counter balance and provide strength for your lower back if you are doing a lot of abdominal exercises. This home exercise is often overlooked on many HIIT workouts despite its importants.
3. Clap press ups
If you find it hard doing this home exercise with your body fully extended then try it on your knees instead. This exercise requires a lot of power in order to jump from the floor and clap your hands together. Try to do as many as you can in the time allocated to your fitness level.
4. Curtsey lunges
This is one the best home exercises for your bum. You will feel this on the side of your bum because of the twisting and bending. Try to go as low as you can as you lunge down.
5. Dive bomber press up
This exercise can also be done your knees as well. When you do this exercise you stick your bum as high in the air as you can manage and your head dives down towards the floor. Before your head touches you pull your head upwards while your chest and belly almost touch the floor as you bring your head forward and up. You will end with your head and chest in the air and your hips close to the floor.
HIIT Workouts For Men #6
6. Forward jumps
This is a great cardio home exercise that increases your heart rate. You can think of this exercise as a forward star jump. You jump both feet forward and back very quickly and at the same time you swing your arms above your head one at a time.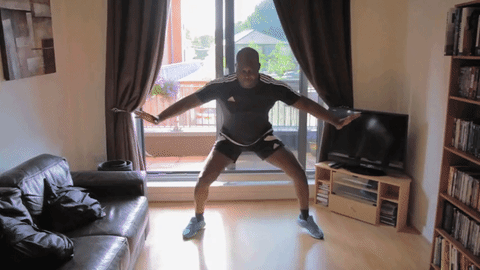 7. Hammers
You can't touch this! This move is similar to MC Hammers move back in the 90's. Back when I was in school this was an exercise we use to do for basketball. The whole idea of this exercise was to get you use to moving your feet fast while in a low position. This was necesarry for basketball. However, it was also a killer cardio home exercise. I found that it toned my legs up and increased my leg strength, as well as my overall conditioning.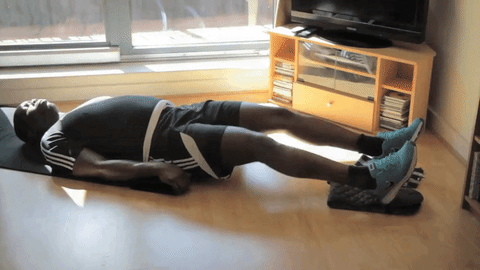 8. Hamstring curl
THe hamstrings are at the back of your legs. You will need to this exercise on laminate flooring with socks on, or you can use some tea towels like I am in the video above. Make sure you curl your legs all the way to your bum.
9. High knees
As you run on the spot make sure you lift your knees up as high as you can. You need to bring your knees up level with your hips. You also need to pump your arms as fast as you can to maximize the calories you burn.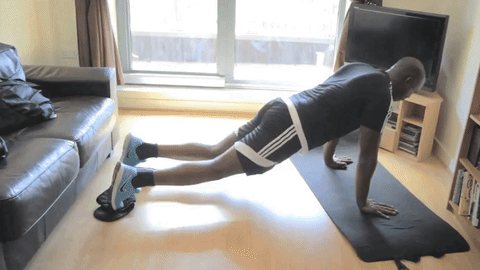 10. Jack knife
This is one of the best core exercises you can do. It is also one of the hardest core exercises I have ever done. The key to this exercise is to make sure that you do not raise your bum high in the air. Your bum must not go above your shoulders.
Weight loss Home HIIT Workouts For Men #7
11. Squat jumps
Squat down as low as your flexibility will allow and then jump up as high as you can. The more effort you put into each jump the more calories you are going to burn. This exercise is great for toning your bum!
12. Knee tucks
This is a home exercise that I saw Linford Christie performing when he was competing as an athlete. What I love about this exercise is that it tones the abdominal muscles and it increases your heart rate as well. This is a fantastic abs exercise.

13. Lunge and rotate
What makes this exercise different to an ordinary lunge is that the rotation of your body adds extra work to your glutes and obliques (bum and side abdominal muscles). This exercise works nearly all your muscle from the waist down. As you step forward and lunge down you will hold that position with your knee close to the floor. Rotate to your right and then to your left before returning to the start position.

14. Plank spiderman
Hold the plank position and move your knee towards your arm pit. Bring your knee as far up the body as it will go before returning to the start postion. Make sure that you alternate legs as you do this exercise.
15. Jump lunges
Keep you feet extended with one leg back and the other forward. Lunge down to the floor and jump as high as you can. When your feet return to the floor make sure your feet are in the correct position to lunge before you lunge again and jump.
topic: at home exercises